We are a 100% family-owned business and we care about our customers from point of sale to the finished installation
Acorn Windows was founded in 1989 with the intention of providing quality products, combined with a friendly and efficient service. We have no interest in high pressure sales techniques or special offers that are far from special.
Aluminium Windows
Arched Windows & Doors
Bi-Fold Doors
Casement Windows
Coloured PVCu Doors
Composite Doors
Conservatories
Decking
Fascias & Guttering
Flush Fitting Windows
French Doors
Lantern Roofs
Orangeries
Patio Doors
Porches
Residential Doors
Small Extensions
Soffits
Tilt & Turn Windows
… and more!
We also manufacture our own sealed units and have our own leadwork design studio where individual handcrafted lead designs are produced.
Charities we've supported
At Acorn Windows we firmly believe in giving back something to the local community, without whom we would not have succeeded since we started way back in 1989.This may involve installing windows at no charge or helping out with a charity or community project.
Weather Protection
We use a neoprene gasket on both sides of the opening vents to eliminate draughts and rain. The noise reduction from this system is amazing.
Controlled Ventilation
All of our windows have a "night vent" facility which enables you to leave the window partially open whilst still secure.
No More Painting
Our PVCu frames are guaranteed to retain their colour, requiring only the occasional wipe over with a soaped cloth, to maintain their pristine condition.
No Unsightly Holes
Our PVCu system has concealed drainage so you do not have the unsightly drainage caps so often seen.
Fire Escape Hinges
We install fire escape hinges where current Building Regulation Requirements state they are needed.
Secured by Design Police Approval
All our products are fully reinforced which has enabled us to be approved and acredited with the scheme operated by the police.
External Sill Range
There is a selection of sills available to complement any home.
Window Cleaning Made Easy
The windows open to 90º allowing the outside of the window to be cleaned from the inside.
Peace of Mind
We are continuously upgrading our locking systems to deter even the most determined of intruders. We use the latest Saracen shootbolt locking with anti jemmy hinges.
Range of Handles
We use "push to open" handles which are both easy to use and highly secure. Available in white, brass, black or chrome.
Noise & Thermal Insulation
28mm Double glazed sealed units with an optimum air gap, provide superb insulation.
At Acorn Windows we firmly believe in giving back something to the local community, without whom we would not have succeeded since we started way back in 1989.This may involve installing windows at no charge or helping out with a charity or community project.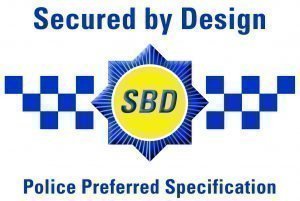 Acorn Windows have been awarded a Secured by Design Licence.
Secured by Design is the UK Police flagship initiative supporting the principles of "designing out crime" by use of effective crime prevention and security standards for a range of applications.
Currently Acorn Windows are the only retail installer of PVCu windows and doors in Nottingham to be endorsed by the Police. We are very proud that our windows and doors meet the specifications required by the Police and offer the highest possible security innovations.

Building Regulations for Your Windows – FENSA (registration number 16983)
On the 1st April 2002 the replacement of windows and doors came within the scope of the Building Regulations for England and Wales; therefore replacement of windows and doors in your home are subject to the requirements of these regulations.
You can meet your commitments under the Building Regulations by using Acorn Windows, who are fully Approved by Fensa.
The FENSA scheme was set up by the Glass and Glazing Federation with the cooperation of the Office of the Deputy Prime Minister (the Government Department responsible for Building Regulations) as a Competent Persons Scheme. This Scheme enables Acorn Windows to certify through FENSA that the installation meets current Building Regulations. FENSA will register your installation electronically with your Local Authority and send you a certificate which records we have certified that the installation meets the appropriate Building Regulations.
A FENSA Registered Business, like Acorn Windows, is required to understand the Regulations and be capable of installing a product in your home which meets requirements. We will therefore advise you on the design of windows and doors and see that the installed windows have the correct thermal performance. Acorn Windows is not permitted to fit non-compliant products that would put you or your installation at risk. By registering your windows you will avoid any problems when you come to sell your home.
FENSA also organise, on a random basis, the inspection of a number of our installations to ensure that Building Regulations are being met.
Since we joined FENSA in 2002 not one of our installations has failed a FENSA inspection.

We are a Which Trusted Trader Approved Company
Which? Trusted Traders is an endorsement scheme that recognises reputable traders who successfully pass Which's rigorous assessment process. Not just anyone can become endorsed. The assessment process involves:
Credit check
A preliminary credit check
Acorn references are checked
Customer reference checks, chosen at random.
Acorn business procedures
A thorough examination of business and administrative procedures.
Interview and assessment
We are visited in person by a Which? Trusted Traders assessor and interviewed.
Code of conduct
We agree to abide by the code of conduct and our terms and conditions.
Acorn are then an endorsed Which? Trusted trader.
Visit the Acorn Windows Which? Trusted Traders page by clicking here.
Complaints 
Where we cannot resolve any complaints using our own complaints procedure, as a Which? Trusted trader we use Ombudsman Services Ltd for dispute resolution. In the unlikely event of a complaint arising and you wish to refer the complaint to them please contact Which? Trusted traders in the first instance on 0117 981 2929.
Download a PDF copy of our Which Trusted Trader complaints policy here.

We are a member of Age UK
The Age UK Business Directory has been running since 2008 in Nottingham and Nottinghamshire. It was designed as a way to protect older people from rogue traders by connecting them with local reputable traders and businesses that have been checked by local Age UK staff.
About Age UK Nottingham:
Our vision and mission
Our vision is: A world in which older people flourish. Our mission is to: Enhance the quality of life and promote the health and wellbeing of all older people in Nottingham and Nottinghamshire.
Our people
The quality of our people is the cornerstone of our ability to serve our clients.
Our partners
Many organisations and individuals have helped us to promote the wellbeing of older people and made their later lives a fullfilling and enjoyable experience.
Our history
Our history can be traced back to Age Concern, those times before we changed our name.
Our annual reports
Our annual report is a comprehensive report on our charity's activities throughout the preceding year which is submitted to our regulator, the Charity Commmission for England and Wales.
Older people in Notts
For a charity like ours to perform well and deliver our objectives we need to understand the local demographics and environment we operate in.