Our Company's Foundation & Morals
Here at Acorn we are very proud of our company history and you may be interested to know why we have become one of the most respected companies in our industry.
We started back in 1989 and the father of our current Managing Director had some sound advice. Gordon Hibbert said that to run a good company it was essential to be honest and fair with your customers. He said that if you made a mistake you were to be honest about it and correct it as quickly as possible. Most importantly he said that if you looked after every single one of your customers and provided the best after-sales service possible there would come a time when word of mouth would bring in more business than traditional advertising methods.
We are still as obsessed about after-sales as we have ever been. We are also very fortunate in that we now have over 45,000 customers who we have looked after and who are happy to recommend us. We are not the largest company and nor do we want to be. We have a very happy workforce from the head office team to our valued installers and we will continue providing what we believe to be the best product, the best installation teams and the best after-sales available.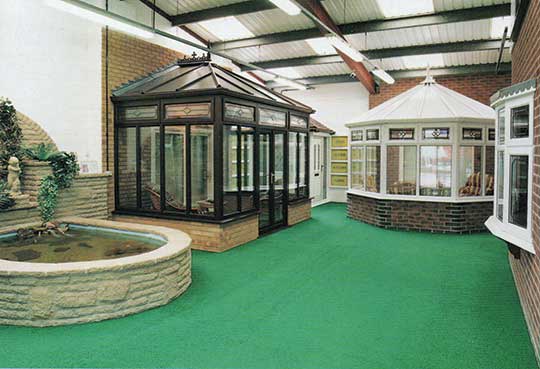 Our original showroom on Glaisdale Parkway, complete with Koi Carp pond!

Some of the many brochures we've produced over the years, starting with the earliest on the far left.
We've been on the internet from 1999 and since then our website has 'moved on a little' as have the computers we all now use. From Intel Pentium chips housed in plain grey plastic boxes to tablets and smart phones (which back in 1999 were only ever seen on Star Trek!).