Nothing pleases us more than receiving a letter of thanks from a customer and here is a selection from the many letters on display at our Wollaton showroom: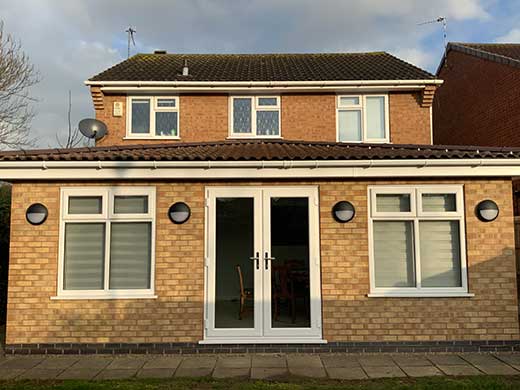 Dear James
We are absolutely thrilled with the conservatory that Acorn built for us this year.
The project involved demolishing our old conservatory, and building a new extension across the whole width of the back of the house. The work was completed between August and November 2020.
Despite Covid-19 you kept to projected timescales, and kept us fully informed throughout the project. Mick was absolutely brilliant both in his project management, customer service and all round building skills.
Rob Senior and Rob Junior who demolished the old building and did the foundations, drains and brickwork for the new build were utterly professional throughout, and we felt a sincere loss when they finished.
All of the sub contractors were equally professional, and there was never any issues when we involved our own plumber.
I have previously stated our over the moon we are with the finished project, and now even several weeks after completion, we can't believe how wonderful a room you have created for us, with stunning attention to detail and quality of finish.
Thank you.
Hi James,
I have had to have several window units replaced under warranty. All your team have dealt with me professionally and with such kindness.
Rebecca is always so efficient and Helpful and so organised so please pass on my thanks to her.
Mark is just amazing. He is so thoughtful and friendly and I feel a true asset to your company. He has been particularly respectful of the current circumstances on wearing a mask and following strict guidelines. It is a pleasure to welcome him into our home. He is both efficient and extremely polite.
I will be recommending Acorn to my neighbour in August with a view to having her windows replaced through you.
We have recently had some bifolds installed by Acorn Windows Nottingham Ltd. Our partnership allows us to offer bifolds, doors, windows etc as part of our full project service! 😯 Excellent quality of work with the service to go with it! We are really happy with the final result as it is a much needed upgrade from what was previously an awkward roller shutter! 😀
Dear James,
We are very pleased with doors and windows, and grateful in particular to your installation team, Jason and Michael – both very thorough and professional in their workmanship, and delightful company during the two days that they spent with us.
Thank you very much. We are overwhelmed with the design and quality of the French Doors fitted. Thank you again, we are busy raising funds for the entrance window next to the newly fitted doors.
Dear James,
Susan and I would sincerely like to thank you and your team for the wonderful job you have completed at our house. In particular we would like to thank John Brocklehurst (Project Manager) who is most efficient and has attended to every detail. We could name all the workmen individually, they were friendly, polite but most of all goodat their job and arrived on site as and when arranged, rare in this day and age. The quality of workmanship is excellent and if there was a problem it was sorted, no questions asked.We would have no hesitation in asking you to do more work for us and we will be recommending you to our friends. Keep up the good work!
Dear James,
We are sitting in our lovely new conservatory with enjoyment and we want to thank you for the excellent professional and caring way that you and your teams have worked to give us the new fantastic conservatory that we now have and love. From the quotation you provided for the conservatory to the plans, to obtaining planning permission (due to the size we requested), to the building work, construction of the conservatory and all the work completed by the electrician, plumber, plasterer, tiler, everything came together like clockwork as detailed in your plan of works that you provided us with before the start of the work and I would like to say a huge thank you, we have been very impressed. Everyone that came to our home and worked on our conservatory had respect for our home and for Acorn Windows and it was a pleasure to have them work on our conservatory as this gave us confidence in the way they approached their work and their ability to do a good job and we are delighted in the way they all did a really good job. Thank you once again to you and your teams. We will definitely enjoy our new conservatory, so please pass on our appreciation to your teams. We have not stopped discussing how pleased we are with the conservatory and how pleased we are with you and your company, this has been passed to friends and family who have seen the conservatory and commented on the size and how lovely it is. We have been so impressed with the service we have received from Acorn we have asked you to quote for further work of which we have agreed and are now looking to put in some time scales for this work to be completed. Thank you.
Everything about using Acorn has been fantastic - we love the new sliding doors.
Windows look fantastic, much warmer on these cold nights. The guys were courteous and very friendly.
We can't believe how much warmer the room is. That end of the room (Where patio doors have been fitted) used to be 15c and we've always had to turn the heat up to 21c. Now its 24c and for the first time ever we've had to turn the heating down. You did a lovely job, very clean and tidy.
Absolutely delighted from beginning to end. Gave us a fitting date when we placed the orde and showed up on that date. Fitters and dust sheets and no radio blasting away!
We would like to say thank you to you and your staff for a very efficient and satisfactory job - especially for the trouble you all went to getting the panel design we wanted in our front door.
Very, very good, very satisfied, 1st class, we'll certainly come back to you again.
We'd just like to say a big thank you for the first class job you did replacing our windows and front door. We have been delighted with your services. From the initial consultation with Geoff, to the surveyor and finally the installation team. They were all polite, friendly and excellent at their jobs. This resulted in us receiving a very high quality product which we couldn't be more pleased with. We would highly recommend you to any future customers.
Dear James
When I went to write to you today about our recently completed conservatory, I found a letter on my PC that I sent to you in 2011, thanking Acorn for an excellent job in replacing our soffits and gutters. I mention in the letter that we were planning a conservatory and would return to Acorn to discuss that with you. Due to family circumstances it took us a while to get around to it, but we finally did and we are absolutely delighted with the finished product.
From our initial discussions with you to the completion of the floor and skirting boards the work has been of the highest quality. At all stages we were consulted and informed about the process and the progress. All the people involved in the work on the conservatory and the patio (we are so pleased that we were able to have the extra works carried out at the same time) were very skilled, efficient and extremely pleasant to have around and we had complete confidence in them all. Many thanks to Mick, Andy and Tony, Andy and Kyle, Swifty and Mark and Phil - and to you too, of course. Even the delivery people for the conservatory furniture commented on the quality of the build - and they said that they see a lot of conservatories! We love the conservatory and the patio area - it's even better than we had hoped.
Dear James and team
I have now found the time to put pen to paper, to thank all of you for the excellent work carried out on the new extension / conservatory erected by yourselves, as well as all the windows replaced at the above property.
The workmanship, professionalism, time-keeping by Mick, Andy, Tony, Swifty and everyone else concerned was excellent, thank you.
My supply of tea, coffee, biscuits, mince pies and brandy have now been brought up to scratch! ( I believe in refreshments every hour, on the hour) They were all very welcome to whatever.
Well done all of you, I would always be happy to recommend the quality, workmanship etc of Acorn Windows to anyone. Thanking you again.
Just a quick email to say a massive thankyou to you & all your team at Acorn Windows. Our french doors look magnificent & have totally transformed our dining room. They are beautiful. The new window is also fabulous & looks great. We feel like we have a new house! We would also like to say big thanks to all your team. From co-ordinator Nigel, who was very helpful & kept us informed on progress all the way to door fitters Ray & Steve who were totally professional & did an immaculate job. Window fitters Terry & his assistant were also brilliant at their job too, all very professional. What a great team you have James. Please give them all our personal thanks. We will definitely recommend you & your team to all our friends & family. Should we need any further work completed on our house in the future you will be the first people we ring! Great job.
Dear James,
Yesterday your company completed upvc window replacements at our newly acquired 200 year old cottage in Bingham and, unusually for me, I am inspired to write to you to thank you for the superb service your company provided at every stage of the process, from Jeff at your West Bridgford office to the man who came to measure for the windows to your efficient and helpful office staff and topped off by your installation team of Jason and Mike who were not only highly efficient and skilled but were wonderfully respectful, helpful and polite during the 2 days they were with us. As someone who was a surveyor and contracts manager in the building trade for 49 years (and so very qualified to comment thus) operatives like these two lads were the ones who you made very sure that you kept hold of by any means possible! I have dealt with many many contractors in the past covering all trades but Acorn windows, in my experience, have certainly been one of the very best. Very well done to everyone involved and all the best for the future.
Acorn windows has worked three times over the years on my property.The latest time being on the 16th August 2016, when you changed my kitchen window. After explaining to Greg,what I wanted and why. I listened to his advice, and could not be more pleased with the end result. I regret not taking a before and after,photograph of your work, as the difference Acorn have made to my home has been significant. Please pass on my sincere thanks and gratitude to all involved
To Jeff
Just wanted to say thank you for all your help in sorting out our new windows at such short notice. We are very happy with our new windows, especially the Irish Oak trickle vents! they look perfect!
Amazing guys, fantastic job and so clean. We're thrilled. We feel very privileged to have had Paul & John to carry out the work.
Dear James,
Just a short note now the job is complete to say thank you. We are delighted with the end result. The whole process from start to finish has been totally professional and very efficient. During the fitting there has been no mess and no remedial work required post fitting. Frankly superb. Ben and Khian have been an absolute delight. They have worked very hard and with great care. They are obviously exceedingly proficient at what they do and importantly passionate about doing a good job. You don't necessarily get that everywhere these days. I will have absolutely no issues in recommending your firm to anyone I know looking to replace windows and doors or instal a conservatory. You are very welcome to use this e-mail for reference purposes and if anyone wanted to speak to me before engaging your services they would be very welcome. Just call me first and I'll confirm my best number to be contacted on.